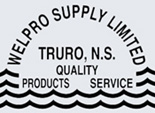 Main Menu
Quality Products and Reliable Service
WELPRO SUPPLY LIMITED
Well Drilling & Commercial Drilling Supplies, Pump Systems & Accessories
About Welpro Supply Limited -

Welpro Supply Limited (Welpro) began operations as a proprietorship of Thomas "Tom" Burke in Truro, Nova Scotia, Canada. It had a rather strange beginning as Tom was employed with a firm serving the water well industry and was advised by the owner that on November 30th, 1995 he would no longer be in the business. This meant that Tom had to make a business decision and that decision was made to start Welpro. Several key customers were contacted for their support which was received. A business arrangement was made with Tom's now former employer to purchase the inventory on an on-going as needed basis. This was an important step and the company was off and running. His residence became the warehouse and stock room until 1998 when Welpro purchased a large barn where its inventory could be stored. The company continued to grow because of the customer loyalty and a strong economy. In 2001 Welpro purchased a 5,000 sq. ft. modern building to move the business all under one roof. This is Welpro's home today. In September 2001 Tom brought his son Randy into the business to help run the daily operations.

Welpro will not forget the loyal customers who helped put the company on a solid footing. Also, Welpro is very loyal to its suppliers because quality products are important. Customers know that from one order to the next, the quality will be the same. Welpro will not sacrifice its years of sourcing and selling quality products for something of a lesser quality and price Our customers realize that quality saves and does not cost.

Moving forward, Welpro Supply Ltd. will continue to provide quality products and service to its customer base as well as exploring opportunities to diversify and grow.